Hire Ukrainian Developers: Key Aspects of Working with a Development Team from Ukraine
In this article, I'm taking a slight detour from our typical tech and web project discussions to share insights about the Ukrainian IT community I belong to.
I began my career as a developer in 2003 and by 2005 had founded my own software development company. Proudly Ukrainian, my company now has branches in several countries, including my homeland. Drawing on my many years of experience, I've gained significant insight into the ins and outs of how to hire Ukrainian developers, and I sincerely believe that the Ukrainian IT market is among the best in the world. In this article, I'll explain exactly why I feel this way and shed light on the intricacies of working with a dedicated development team from Ukraine.
Three things that you need to know to hire Ukrainian developers
To begin with, let me provide some information to get you up to speed. 
1. The environment for preparing your future Ukrainian dedicated developers
The foundation of a successful national tech industry rests on three key factors: the education system, research infrastructure, and demographic trends. With a population of over 40 million, Ukraine possesses vast potential for its booming IT sector, which has consistently ranked among its top three industries and is on a path of swift expansion. The nation also boasts a robust educational framework, notable for its rigorous emphasis on mathematics. According to the UN education index, Ukraine ranks among the top 50 most educated countries globally, even surpassing nations like Italy.
Recently, the higher education system in Ukraine has become yet more engaged in training IT specialists, and it's common for individuals to first pursue a higher education, typically in a technical field, and then further specialize by enrolling in courses at dedicated IT schools. With hundreds of these schools across the country, they have garnered significant support from major Ukrainian IT companies, some of which have even established their own educational institutions. Furthermore, many large firms offer internship programs, educational marathons, and camps for newcomers, and it is this blend of formal education and practical experience which ensures that talented young professionals catch the eye of Ukrainian IT companies.
In Ukraine, it's not uncommon to come across physicists or chemists who've transitioned to programming roles. And trust me, they often excel as developers, as they've been able to build upon their solid educational foundation by adding further specialized training and guidance from experienced mentors. What's more, given that the average salary in Ukraine remains among the lowest in Europe, many young individuals are drawn to the lucrative IT field, ensuring a steady stream of fresh new talent.
It's also worth noting that traditional Ukrainian higher education institutions are increasingly offering IT specializations and enrolling more students in these programs. As a result, universities are playing a pivotal role in simplifying the process of hiring software developers in Ukraine. Current estimates suggest that Ukrainian universities produce approximately 39,000 IT-related graduates each year.
Many professionals in the global IT sector eventually «discover» the prowess of Ukrainian IT. Managers from diverse regions, upon their initial interactions with Ukrainian companies, often express astonishment at the vast community of skilled developers in Ukraine. For instance the author of this article, draws parallels between Ukraine and the UK between Ukraine and the UK when it comes to recruiting developers, but suggests that Ukraine offers a broader scope in professional training for IT specialists and presents more opportunities to hire the right talent. Such observations are echoed in writings from international authors as well.
2. The market where you hire Ukrainian developers
The Ukrainian IT market has matured over the years. Many of its leading IT companies boast a workforce of 13-15 thousand employees, with numerous others in the industry employing over a 1000+. Predominantly serving clients from the USA, Canada, Europe, Australia, and beyond, a significant majority of the IT professionals in Ukraine are proficient in English. This is especially true for experienced professionals, who constitute over 80% of the workforce. Impressively, the market has been growing at an average rate of 25-30% annually, and even amidst the upheaval caused by an ongoing war, the IT sector in Ukraine remains the only growth island in its national economy, a resilient beacon in the face of enormous difficulty. 
The Ukrainian government is highly supportive of the IT sector. For example, the tax burden now ranges  from 5-9%, promoting the competitiveness of Ukrainian companies and their services. Government initiatives like Diia.City, a special legal and tax regime, specifically cater to IT businesses, and the recent adoption of a «State in a Smartphone» national strategy has further sharpened the country's focus on its IT sector. 
With a robust IT infrastructure, Ukraine offers an inviting environment for both national and international R&D centers. The 2021 IAOP Global Outsourcing 100 highlights Ukraine as the leading nation in Eastern Europe based on the number of global IT companies it hosts. 
This favorable business ecosystem for tech advancement is mirrored in international studies, such as the Kearney Global Services Location Index (GSLI). Additionally, the Global Innovation Index (GII) consistently ranks Ukraine among the top 50 most innovative national economies.
It's estimated that about 300,000 professionals work within the Ukrainian IT sector, and their expertise is acknowledged globally. The BlueOptima Global Benchmark (BGB) Report notes that Eastern Europe, with Ukraine at its forefront, consistently produces high-quality, maintainable code. 
Ukrainian developers have earned their reputation as formidable players in the global market. Reports from organizations like Pentalog & SkillValue have consistently ranked Ukraine among the top five nations for outstanding developers since 2019, and the Ukrainian software development community hasalso  received high scores in HackerRank polls.
Ukraine's integration into the global IT scene is long-established, and numerous Ukrainian software companies have honed their skills in collaboration with tech giants. According to the Dutch software development company Daxx, 20% of Fortune 500 companies have their own dedicated development teams from Ukraine. A clear picture emerges: that the impact of Ukrainian developers is significant and far-reaching. Just take a look at the infographic below to demonstrate this!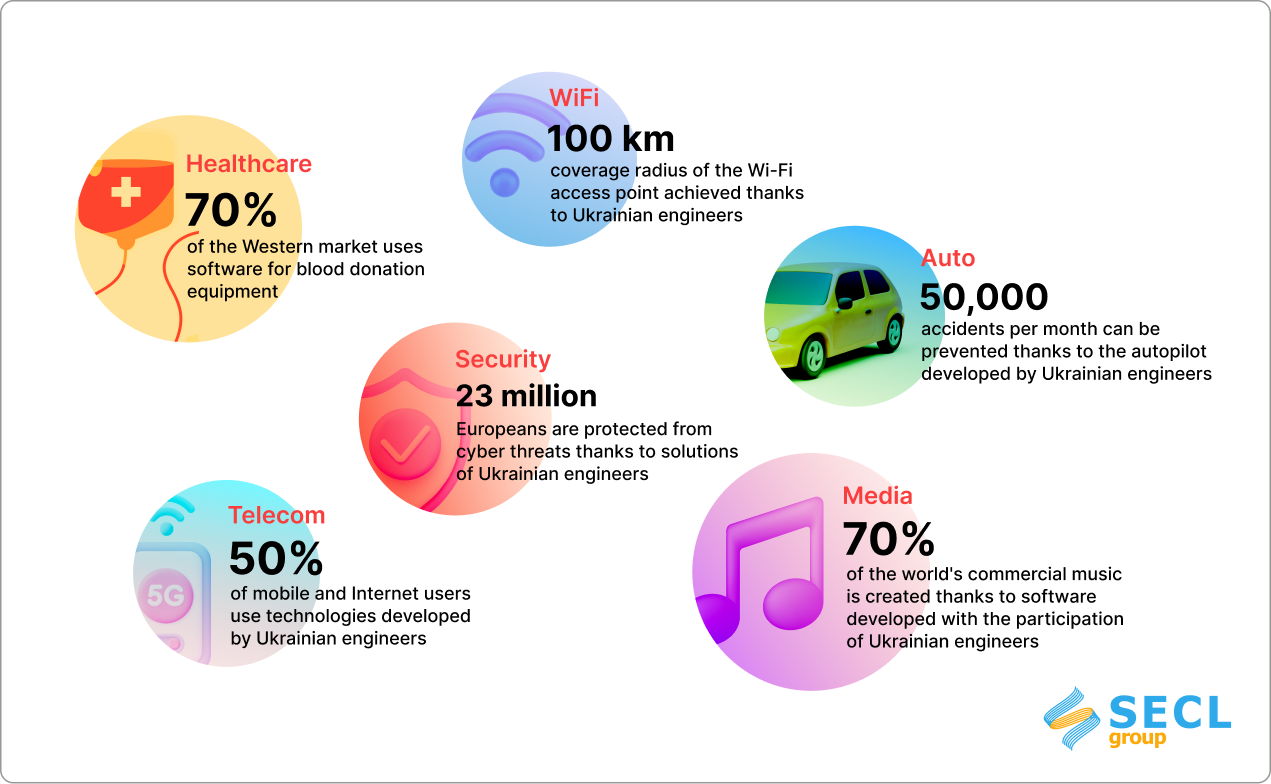 Did you know that many leading global technology companies have Ukrainian origins? Notable examples include Grammarly and Depositphotos.
And of course, remember that the realm of information technology extends beyond just software development—it also encompasses high-tech manufacturing. An intriguing fact is that, as of 2022, Ukraine provided over half of the world's neon supply, a gas that is crucial for producing integrated circuits.
So, even if you haven't directly engaged with Ukrainian software development firms, chances are you've already benefited from the expertise of Ukrainian engineers. Given global events, it's natural to seek reassurance that potential conflicts won't impact your collaboration with a dedicated Ukrainian development team.
3. Even war can't stop you from working with Ukrainian dedicated developers
Any concerns you may have about hiring software developers from Ukraine during this time of conflict are entirely understandable. Any risks should be meticulously assessed. However, thanks to the exceptional dedication of Ukrainian IT professionals, the war has failed to prevent Ukrainian software development companies from meeting their contractual obligations.
Remember, the war in Ukraine has been ongoing since 2014. This means the Ukrainian IT industry has, for years, been navigating challenges similar to what Israel faces, operating amidst ongoing conflict. By the time of the full-scale Russian invasion in 2022, many industry leaders already had contingency plans in place for escalating situations.
The dramatic events that have since played out, have keenly demonstrated the resilience and adaptability of Ukrainian software development companies. Many relocated their employees abroad or to safer regions within Ukraine, and the remote work protocols enacted during the Covid-19 pandemic were promptly re-implemented.Recruitment dynamics shifted too, with a more active push to hire experts from outside Ukraine.
Even Russian missile attacks on the country's energy infrastructure didn't halt operations for long. IT businesses ensured their independence by purchasing standalone generators and Starlink terminals for uninterrupted internet connectivity. Thankfully, disruptions to the power supply from these attacks lasted only about two months, as the country's defense forces, aided by international support, secured the skies, and engineers worked to restore them.
On the home front, domestic firms have taken the necessary step to bolster their IT infrastructure. I've previously discussed a large-scale project involving migrating data to a cloud service in this blog.
Despite the war's obvious challenges, Ukrainian developers continue to deliver quality software on time. According to a 2022 study by the IT Ukraine Association, 84% of companies retained the majority of their contracts during the conflict, and remarkably, post the Russian aggression, 77% of these businesses secured new clients! All of this once again proves testament to the Ukrainian IT sector's adaptability and resilience, which remains a dominant contributor to the nation's economy, maintaining its export volume and even delivering notable growth.
Clients from top global economies recognize and value the foresight and risk mitigation capabilities of Ukrainian IT leaders, as they have worked to ensure that their projects have remained largely unaffected by a war. This trust is evident when you consider that many of Ukraine's largest IT firms handle projects in sectors like FinTech, Healthcare, Telecom, and Energy, industries which naturally prioritize data security and require continuous software delivery (see infographic below).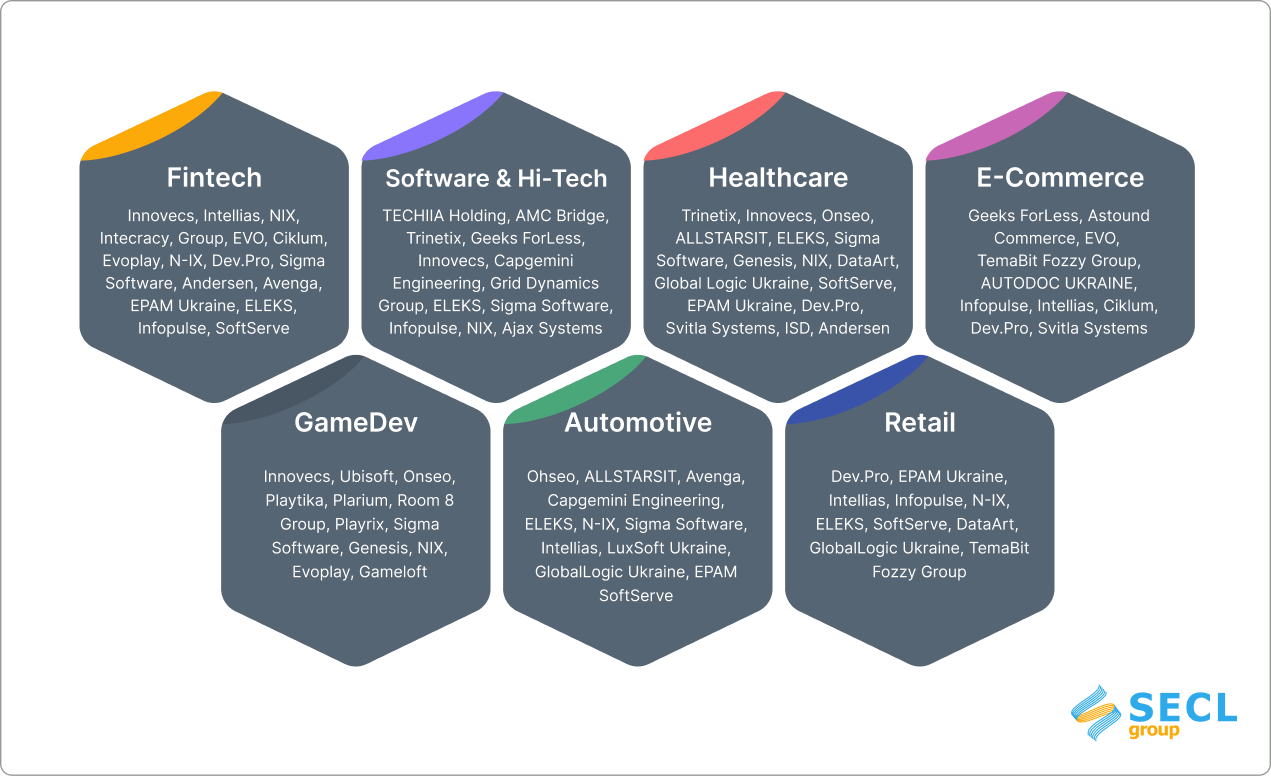 Moreover, nearly half (48.7%) of Ukrainian IT exports cater to discerning clients from advanced economies like the US and the UK.
In summary, the Ukrainian IT sector, while affected, has showcased incredible adaptability and continues to cater effectively to global needs. Clients often highlight Ukrainian developers for their:
Consistent delivery

Long-term partnership commitment

Effective communication

Agile and mature business processes

Customer-centric approach

Commitment to safety and Corporate Social Responsibility (CSR).
As the Ukrainian market achieves a phase of relative stability, it might be the right time to tap into the country's talent for your software needs. So if you are contemplating adding to your team, continue reading for my tips on how to hire a dedicated team from Ukraine.
How to start beneficial cooperation with a dedicated development team from Ukraine
Engaging a team of Ukrainian programmers with a rich background working on projects for notable European or North American firms is quite feasible. And if you've collaborated with international professionals before, working with such a team will likely feel familiar and seamless. But as you contemplate hiring Ukrainian developers, here are some clear-cut recommendations to guide you.
Hiring software developers in Ukraine: 7 highlights
Let's go over the main points of involving specialists:
Quality Assurance:

Always handpick team members for each project and conduct a technical interview with every candidate to help identify top-tier engineers. Solely relying on a resume can be misleading as candidates might either embellish their qualifications, or overestimate their competence. Of course, this situation could arise with candidates of any nationality. 

Proficiency in English:

The Ukrainian IT sector boasts many English speakers, though not all of them are fluent. If you're looking to cut costs, consider teams where only team leads and project managers (PMs) have strong English skills, and the rest possess intermediate proficiency. For certain projects, this is perfectly acceptable.

Broadening the Candidate Pool:

Don't dismiss the possibility that the candidates suggested by your contractor might not meet your requirements. If this happens, ask your contractor to scout for potential team members in the broader market, and if they pass technical interviews, you can hire them. This approach ensures you get the best fit and alleviates concerns about the team's quality.

Reputation Check:

Do thorough research on any company you consider partnering with. Check their previous projects and clientele. Remember that engaging with businesses comprising fewer than 10 people can be risky since they might lack structured business processes and the competency of their developers might be below industry standard.

Specialization Matters:

Most companies specialize in a specific technology or technologies and bigger firms also often specialize in certain sectors. My advice is to choose a partner that aligns with your area of business, and given the diverse portfolio of Ukrainian outsourcing companies, it's highly probable you'll find one proficient in your field. It's hard to find a sector that hasn't benefited from the work of

dedicated development teams from Ukraine

.

Hourly Rates:

IT professionals in Ukraine command salaries that are in line with other European nations. The average rate hovers between $35-$50 per hour, subject to the specific tech expertise of the engineers.

Contractual Comfort:

Typically, Ukrainian IT firms have affiliations or registered entities in regions like Europe or the USA. This prevalent practice in Ukrainian software development offers a secure and seamless collaboration avenue for clients.
Continuing the conversation about various organizational and financial models of working with dedicated Ukrainian developers, let's consider a few more significant issues.
How best to hire Ukrainian developers: individual vs company
The choice between hiring an individual developer or partnering with a company is a pertinent question. Ukraine, along with several Central and Eastern European (CEE) countries, consistently ranks among the top 10 nations with a significant freelance developer community. However, I advocate for collaborating with a company, and I don't just say this because I lead an IT service provider myself. I genuinely believe that engaging with a Ukrainian IT company offers distinct advantages, such as:
Professional Workspaces: U

krainian IT companies boast modern offices equipped with top-tier amenities. Such environments, tailored for productivity, ensure developers can perform optimally.

Legal Framework:

Collaborating with a company provides a solid legal foundation. All project-related matters can be documented in a company-to-company contract, allowing payments to be processed through a legal entity, either in Europe or the USA. This approach aligns with legal compliance and corporate standards. A company's promise to honor contractual obligations, including post-project support, surpasses what most individual developers can offer. Engaging with a company is the most transparent and secure option for clients.

Employee Benefits:

IT companies in Ukraine offer their staff comprehensive benefits, such as paid leave, medical insurance (which often extends to family), company events, opportunities for continuous learning, and more. Such benefits enable employees to concentrate solely on their tasks.

Motivation and Community:

Beyond financial incentives, companies understand how to motivate their developers, factoring in local culture and values. Many Ukrainian IT professionals cherish the supportive community and positive atmosphere provided by these companies.

Collective Expertise:

Developers often thrive in team settings where they can exchange ideas and enhance their skills. As a client, you benefit more from a team's collective expertise than relying solely on an individual. Companies also adeptly manage the «Bus factor,» ensuring no single point of failure can derail your project.

Flexibility:

Companies possess the agility to onboard specialists as per your requirements or reassign them based on project shifts.

Holistic Services:

Partnering with a company can fill any expertise gaps you might have. Suppose you have in-house business analysts and prefer to manage the project internally. In that case, we can provide just the specific development specializations you need.
Alternatively, if you're starting only with a product idea and don't wish to build an internal IT team, we can support all project facets, from business analysis to project management. For instance, in a case I've outlined in this article, we not only took on development responsibilities but also provided technical support for a B2B e-commerce platform for Kia.
Cooperation models when hiring a dedicated development team from Ukraine
Most Ukrainian IT companies favor the Time & Material (T&M) or Body Leasing cooperation model, where payment is made based on hours worked. Clients typically pay at the end of the month or after a designated sprint.
Additionally, some companies adopt the «Cost+» model. Here, a project team is specifically assembled for the client, who is then informed about each team member's salary and an additional company fee, which averages between $1,000 to $2,000 per developer. 
A notable benefit of this approach is that clients can choose to «buy out» the contracts of team members, effectively hiring them directly. In such scenarios, the software development company is compensated with an amount equivalent to 3-5 months of the employee's salary for each transferred member.
As for the Fixed Price model, well this is relatively uncommon in Ukraine. When used, it's typically by junior teams for smaller projects.
Summary of hiring software developers in Ukraine
The consistent success of software development projects involving Ukrainian talent attests to the advantages of collaborating with Ukrainian IT teams, and I trust that this article provides the concrete facts and figures to support this claim.
Now that you're armed with an understanding of the mindset and approach of Ukrainian developers, there's nothing stopping you from seeking out powerful collaborations in the pursuit of cutting-edge software solutions. 
At SECL Group, a leading Ukrainian IT company, we stand ready to support your vision. Should you seek to hire a dedicated development team from Ukraine, trust in us to deliver both impeccable software development and first-class service.
The CEO of a software development company called «
SECL Group
». Extensive experience in web development since 2002. An author of numerous studies and articles, a speaker at industry conferences, and an independent consultant for commercial companies and government agencies.
Related publications